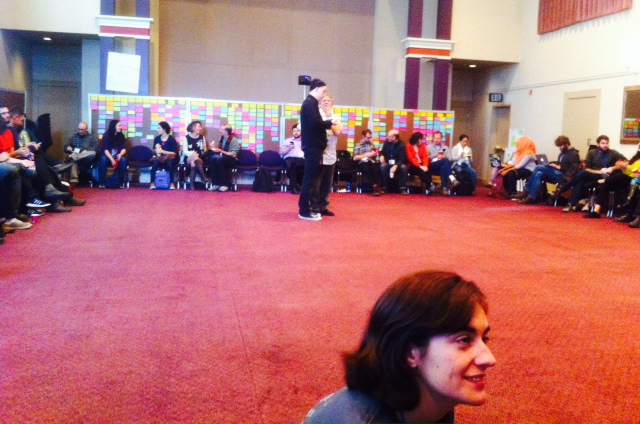 Picture by Beatrice Martini (CC BY-SA 2.0).
Last November I had the great opportunity to join the Nonprofit Software Development Summit.
Organised by Aspiration, the gathering convened a widely diverse crowd, more than 100 people between activists, developers, students, campaigners, nonprofit staff members passionate about creating technology for nonprofit and social justice efforts. I had first heard about it from Misty Avila (Aspiration) and since reading Dirk Slater's write-up about his 2013 summit experience I had it saved in my check-this-out wish list!
Core values
First thing on the first morning, the opening circle set welcoming and inclusive values right from the start:
We're all learners
Observe and practice respect
Be timely
Listen
In a group of n people, speak one nth of the time
During collective discussions, debate is not ok – but please feel welcome to agree to disagree, and continue debates in a separate time and place
Use simple and inclusive language, no jargon
Questions are the currency of this gathering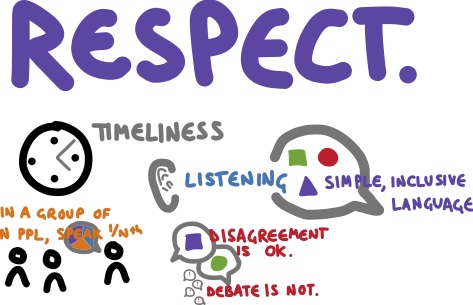 Drawing by Willow Brugh (CC BY-SA 2.0).
Agenda
From the summit wiki:
The agenda is designed and facilitated using Aspiration's unique participatory model, in an environment where powerpoint slides are discouraged and dialog and collaboration drive the learning.

Our philosophy centers around getting participants into small-group discussions where they can discuss topics they are passionate about and get answers to their questions and curiosities. Sessions at Aspirations have particular traits; we de-emphasize presentations and lecture, and instead focus on "break-out" sessions that are self-organized whenever possible.
With more than 70 sessions in 3 days, the agenda was a treat regularly leaving you torn between simultaneous discussions you wanted to join if only you were ubiquitous.
Some notes and learnings from the break-out sessions I have been glad to join:
Resource creation, learning guide, how-to manifesto – Resources and materials created for our sector are often not properly maintained or cared for after their release. How can we take care of them beyond the launch and follow-up evaluation (which is usually how far the funding goes)? The Responsible Resource Manifesto aims to address this issue, and during the session Dirk Slater summed up the status of the manifesto's first draft and invited participants to share feedback on how to improve it. A few of the points discussed and suggested for further development of the resource: distribution plan, benefits statement, guidance about stewardship (what's the plan if the responsible organisation closes?)
Measuring real-time impact in your work – Anh Bui and Steve Wright guided the group through the challenges presented by a number of questions we asked: How do you measure impact when you do not know who you audience is? How can you measure as you go (not summative, but immediate impact)? How to measure the impact of community building (e.g. events, actions)? Among my favourite takeaways: the understanding that when talking about leadership development, it's not about causation, but collaboration; talking about collaboration as collective impact, a reading tip – Embracing Emergence: How Collective Impact Addresses Complexity, by John Kania and Mark Kramer; document your work and be transparent about it – it's not only internally useful but it also helps when communicating with funders, who are then able to see the more evidently the trend of your outcomes.
Overcoming the fear in talking about digital threats and risks – How to approach security in a way that does not communicate threat, but empowerment? To kick off our brainstorming, Ali Ravi encouraged us to come up with as many as answers as possible to the question "What is Security?", to take distance from the technicalities of the topic and understand why is security important for us. Then he proposed a parallel between the feelings inspired by the idea of security and three core concepts from The Art of War: 1) know yourself (your assets) 2) know the adversary 3) know the terrain (map out the relationships between your assets, your allies and adversaries). Through this exercise we can determine what's the likelihood the adversary is going to do something and what's the impact of this.
Tech and theory of change – together with Evan 'Rabble' Henshaw-Plath we discussed about the role of theories of change for different social movements and organisations, as well as for ourselves in our own life-work path. Also, the way software is made and administered often happens to undermine our theories of change in the social justice world – what can we do not to make this happen?
Vozmob, working in vulnerable immigrant communities – In its own words, "Mobile Voices (VozMob) is a platform for immigrant and/or low-wage workers in Los Angeles to create stories about their lives and communities directly from cell phones". The project started as a way to offer domestic workers based in LA a way to share the stories and get in touch. It's now grown in variety and size of content, is edited by a group of immigrant workers once a week – and it also has a sister tool, Vojo. Vojo can be used for projects all around the world, allowing to post stories from inexpensive mobile phones via voice calls, SMS, and MMS (no Internet connection nor smartphones needed). We talked with Maegan la Mala Ortiz about her experience with working on the project and about how we can use technology to create power in our communities and achieve greater participation in the digital public sphere.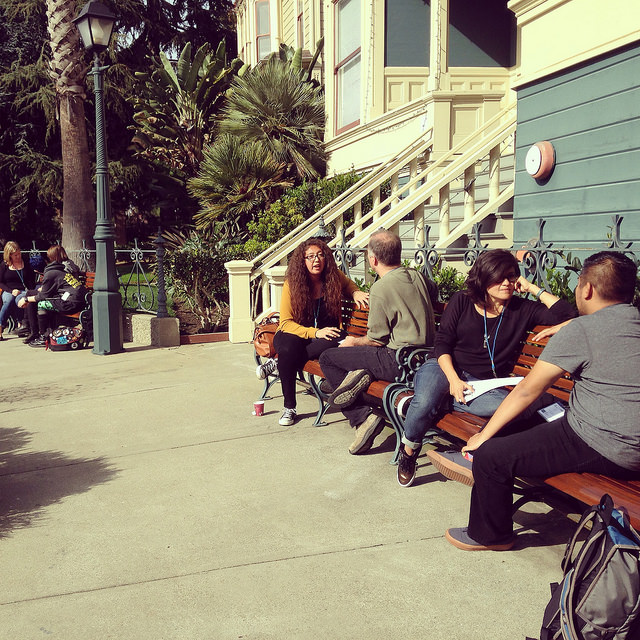 Picture by Aspiration (CC BY-SA 2.0).
And what about all the other break-out sessions I wanted to attend but couldn't split myself to join? Luckily each discussion at the summit had a note-taker (which everyone should do at least once, it's fun!) not to miss out – Tech Capacity Builders Make Better Lovers, Best practices and tools for asymmetrical collaboration, Claiming and protecting your organization's online identity, Ethical consulting, Let's encrypt: Learn about what new tech projects EFF is working on, Applying lessons from traditional advocacy to online organization, and the hands-on sessions about Expressing ideas visually and Humanitarian OpenStreetMap.

Visual notes from the Tech Capacity Builders Make Better Lovers session, by Willow Brugh (CC BY-SA 2.0).
Also, a round-up of some of my favourite projects discovered during the speed-geeking session:
And we also had a 10-minute tête-à-tête skillshare session!
For the occasion, I had the pleasure to join Willow Brugh, who talked me through a (visualised!) reflection on the question "What can we do to bring systemic change towards our own values?"
And I also facilitated a break-out session! More about it in the next blogpost!
These are just some of notes and learnings I collected from summit – add to them all the off-session conversations, evening hangouts, notebook sketches and old and new friends to catch-up and make plans with!
Curious to know even more about the summit? Check out the
and don't miss the making of the 2014 Aspiration T-Shirt, reworking geo-political bias through design (!)
See you there next year!