Browsing the internet, sending an email, texting, making a call, reading the news – these are actions that many people around the world want and need to do every day. Depending on the society we live in, and what our demographics represent to the entities exercising legislative or economical power on it, these tasks can seem mundane, be potentially harmful, or made impossible.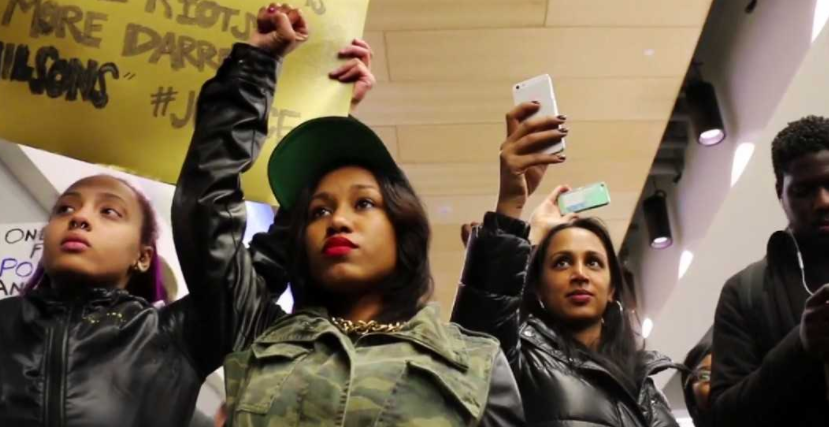 Protesters documenting a #BlackLivesMatter demonstration. From How women are leading the #BlackLivesMatter movement. Text and picture by Jihan Hafiz. Aljazeera America.
As reported by Freedom House's 2016 Freedom of the Net account:
Internet freedom around the world declined in 2016 for the sixth consecutive year;
Two-thirds of all internet users – 67 percent – live in countries where criticism of the government, military, or ruling family are subject to censorship.
Furthermore, thanks to individuals like Chelsea Manning and Edward Snowden, who put their own safety at risk to expose abuses and wrongdoings carried out by governments and corporations, we know that increasingly sophisticated surveillance measures are employed to control the online activity and communications of internet users globally.
We know that our internet traffic, communications and movements can be monitored. What we say, write and do can be tracked and policed accordingly to the agenda of the entity collecting data about us. We know that the information and news we get, even under the most democratic administrations, can often be filtered or manipulated, either by appointed individuals or aptly developed algorithms.
Privacy, freedom of expression and freedom of peaceful association are universally protected human rights. People of all nations have the right to reclaim these rights, and the surveillance and censorship of our online communications and activity pose a threat to them.
Thankfully, a number of technology projects strenuously work to allow internet users worldwide to communicate and interact online privately and anonymously, circumventing the surveillance and censorship measures harming our digital rights.
They work to protect the internet users' privacy and freedom of expression. But their existence and sustainability can not be taken for granted, and if we believe in the value of their work, it is good to consider if and how we can help them to keep running.

How Tor Browser Works. Tor Project.
About this list
This post provides a list of selected technology projects focusing on protecting the rights to privacy and freedom of expression in the digital space.
The circumvention technology tools mentioned here:
Use free and open source software. This means that they can be improved and peer-reviewed independently, allowing for freedom from a vendor's management restrictions, and providing accountability and more transparent security audits;
Are often localized or at least translated in multiple languages.
There is also something else that they have in common: they have very limited resources, their operations are often made possible by the work of volunteers, and the lack of independent donations could bring many of them to a close.
In addition to them, the list includes also a few human rights, advocacy, policy and education organizations whose efforts mutually complement the work of privacy-enhancing technology projects.
The projects' and organizations' short descriptions featured in the list are based on excerpts from their own websites.
How to use the list
This is what this list can be useful for. You can:
Discover more about free and open source technology projects that can help users circumvent censorship and surveillance;
Consider to use the tools and resources created by these projects. Please note: no tool in the world is the universal best solution across all contexts and circumstances. A case by case evaluation is always recommended before adopting any tool (even a light bulb). You can learn more about how to use anti-surveillance and anti-censorship technology depending on your needs consulting the Electronic Frontier Foundation's Surveillance Self-Defense guides;
Volunteer to help a project as needed, e.g. supporting technical development, contributing to localization and translation efforts, backing campaigns;
Consider to donate to projects and organizations who care about digital rights, and provide users worldwide with the tools to respond and resist against censorship and surveillance;
Share the list with anyone who might be interested in learning about, using, contributing and donating to the listed projects;
Contribute to the list itself. Feel welcome to share information about like-minded projects you would like to recommend on this public etherpad or via email.
Technology projects
Tor
The Tor network is a group of volunteer-operated servers that allows people to improve their privacy and security on the Internet. Among its projects: Tor Browser, Open Observatory of Network Interference (OONI), Pluggable Transports.
Open Whisper Systems
Open Whisper Systems is both a large community of volunteer Open Source contributors, as well as a small team of dedicated grant-funded developers. It makes Signal, an encrypted instant messaging and voice calling application for Android and iOS.
Guardian Project
Organization creating easy to use secure apps, open source software libraries, and customized mobile devices that can be used around the world by any person looking to protect their communications and personal data from unjust intrusion, interception and monitoring. Together with WITNESS, it developed CameraV, an easy-to-use app to capture and share verifiable photos and video proof on a smartphone or tablet, all the while keeping it entirely secure and private.
Let's Encrypt
Free, automated, and open certificate authority (CA), run for the public's benefit. It provides with the digital certificates needed in order to enable HTTPS (SSL/TLS) for websites, to create a more secure and privacy-respecting Web.
LEAP Encryption Access Project
Nonprofit dedicated to giving all internet users access to secure communication. Its focus is on adapting encryption technology to make it easy to use and widely available.
Riseup
Nonprofit dedicated to the research and development of software built in the service of social justice organizations and movements. Among the online communication tools and services provided by Riseup: email, chat, and lists for thousands of activist organizations around the world.
Off the Record (OTR) messaging
Encryption protocol allowing to have private conversations over instant messaging.
May First/People Link
Nonprofit membership organization that uses mutual aid to provide internet services like web hosting to progressive organizations and individuals.
Qubes
Security-oriented, open source operating system for personal computers.
Tails
Live operating system aimed at preserving privacy and anonymity. It can be started on almost any computer from a DVD, USB stick, or SD card.
Subgraph
Open source security company. It makes Subgraph OS, a desktop computing and communications platform designed to be resistant to network-borne exploit and malware attacks.
Localization Lab
Global community of volunteer translators who support the translation and localization of Internet freedom tools: technologies that address security, privacy and anonymity online to ensure that people around the world have safe avenues for accessing information on the Internet.
SecureDrop
Open source whistleblower submission system that media organizations can use to securely accept documents from and communicate with anonymous sources. It was originally created by the late Aaron Swartz and is currently managed by Freedom of the Press Foundation.
GlobaLeaks
Free and open source whistleblowing framework. It allows anyone to easily set-up and maintain an anonymous whistleblowing platform.

How to Film Protests: Choose the Right Tools. Part 2. WITNESS.
Other kinds of organizations focusing on anti-surveillance and anti-censorship efforts
Besides technology projects, there are also human rights, advocacy, policy and education organizations and groups working to reclaim and protect digital rights. You can help them with donations, campaign support and volunteering your time to spread the word about their work.
For the nature of their efforts, which focus on specific legislative and cultural contexts, many of this type of organizations have a local, national or regional focus.
The following are just a few of the many organizations active worldwide. Searching online or getting in touch with local meetup groups and hackerspaces can surely help to discover more of them. And of course, meetups and hackerspaces are also great places to meet other people to talk and learn about anti-surveillance and anti-censorship technology together.
Freedom of the Press Foundation
Organization dedicated to helping support and defend public-interest journalism focused on exposing mismanagement, corruption, and law-breaking in government. Among its projects is the open source whistleblower submission system SecureDrop.
Electronic Frontier Foundation
Nonprofit organization defending civil liberties in the digital world. It champions user privacy, free expression, and innovation through impact litigation, policy analysis, grassroots activism, and technology development. EFF also produces resources and tools, like: Surveillance Self-Defense guides, Street Level Surveillance resources, Secure Messaging Scorecard, Onlinecensorship.org (in partnership with Visualizing Impact), HTTPS Everywhere, Panopticlick, Privacy Badger, Certbot.
Privacy International
Organization focused on privacy intrusions by government and businesses. It produces and publishes research reports in collaboration with academic institutions across the globe, Privacy 101 explainers, and takes legal actions against governments and companies to ensure that surveillance is consistent with the rule of law.
WITNESS
International organization that trains and supports people using video in their fight for human rights. It develops tools and apps to keep people safer, and curate and help draw attention to citizen footage of under-reported stories. Among its projects is a library of free resources for video activists and trainers, also translated in Arabic, French, Portuguese and Spanish. It co-developed the CameraV app in partnership with Guardian Project.
Calyx Institute
Nonprofit education and research organization dedicated to education, testing, developing and implementing privacy technology to promote free speech, free expression, and civic engagement.
Fight for the Future
Nonprofit organization whose mission is to ensure that the web continues to hold freedom of expression and creativity at its core.
ARTICLE 19
Organization focusing on the defense and promotion of freedom of expression and freedom of information worldwide.
Courage Foundation
International organisation that supports those who risk life or liberty to make significant contributions to the historical record. It fundraises for the legal and public defence of specific individuals who fit these criteria and are subject to serious prosecution or persecution, such as Chelsea Manning, Edward Snowden, Jeremy Hammond, Barrett Brown, Lauri Love. It also campaigns for the protection of whistleblowers and the public's right to information.

Radio Motherboard, episode 42. Cryptoparty in Harlem. With Matthew Mitchell and Nusrat Choudury. Hosted by Adrianne Jeffries. Motherboard.
CryptoParty
Decentralized movement with events happening all over the world. Its goal is to pass on knowledge about protecting yourself in the digital space. This can include encrypted communication, preventing being tracked while browsing the web, and general security advice regarding computers and smartphones.
Coding Rights
Brazilian-born women-led Think-and-Do tank promoting human rights in the digital world by integrating the use and understanding of technology into policy making processes. Among its projects: Oficina Antivigilância, Sexy Guide to Digital Security, I Want My Chip.
Library Freedom Project
Partnership among librarians, technologists, attorneys, and privacy advocates which aims to address the problems of surveillance by making real the promise of intellectual freedom in libraries.