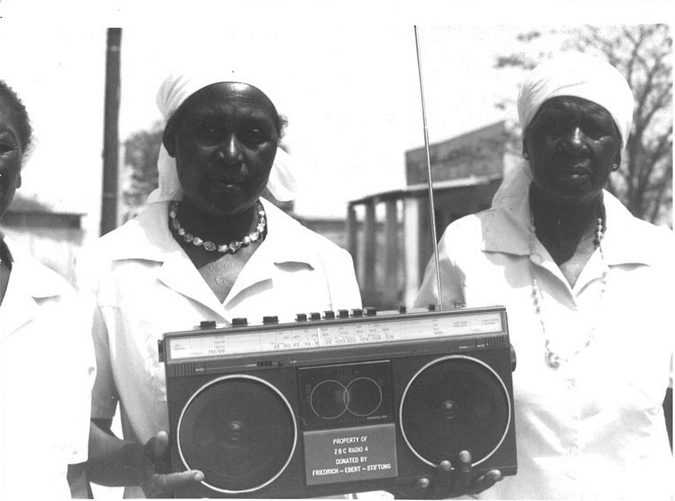 Women of the Radio Listening Clubs in Seke Zimbabwe, by Calvin Dondo (CC BY-SA 3.0).
Having the freedom to talk about our experiences, opinions and struggles is extremely powerful. Our voices and stories are heard and shared. We can create alliances, communities and movements, support and strengthen each other, reclaim and protect our spaces and rights.
Knowing the media we can use to express ourselves independently, with no filters or need for permissions, is key to our freedom of expression, and technology provides tools which are becoming cheaper and easier to access everyday, such as blogs, videos and podcasts.
Podcasting has been around for a decade, and it's now exploding and growing in full force. Why now? And which are the opportunities that podcasting offers to individuals and groups who are not represented by mainstream media channels? Podcasting can be a truly revolutionary tool to reclaim representation of realities and issues, and can be a low-barrier, high-impact instrument to fight for democracy, justice and rights.
This post seeks to give an idea of what podcasting is today and why it matters in our effort to create a more democratic and inclusive media space. By highlighting the potential podcasts offer as a medium of expression while also unpacking their challenges, we'll understand what we need to do to ensure that podcasts are able to shape our media landscape.
What is a podcast?
In 2001 Apple launched the first iPod, a music player that made it possible for people to carry sizeable audio collections in their pockets, from music to audio books. Over the next few years, a new genre of narrative audio emerged, and took the name of podcasting.
The word podcast is a play on the words broadcast and iPod, and it was first mentioned in 2004 by the Guardian journalist Ben Hammersley, in his article Audio revolution. But an iPod is actually not necessary to listen to podcasts – as a general rule, they can be listened on anything that plays MP3s.
Anyone who can record an audio file and upload it to the internet can make a podcast and distribute it freely to anyone with a computer or smartphone, anywhere in the world.
There are no barriers such programme directors or distributors: a simple and inexpensive technology gives listeners the opportunity to become producers and voices too often not represented in traditional media the chance to be heard.
Podcasting is a horizontal media: no one owns its technology, it's free to listen to and create content, and producers are consumers and viceversa.
Podcasts have never been so popular – why now?
Technically, podcasts have been around for a decade. But besides a couple of hugely famous ones, like This American Life (a critically acclaimed radio programme which has been on air since 1995 and is available as podcast since 2006) and Radiolab, they haven't been among the key media formats audiences have been turning to for a long time. Until a couple of years ago, when podcasts made a true comeback.
There are many reasons which contributed to their popularity.
Making a podcast is technically easy and very affordable: no advanced audio recording knowledge is required, and all it's needed to produce an episode of good quality is a microphone, an editing software (like Audacity, which is free and open source) and a hosting service for the audio files themselves.
The sustainability of the (already not prohibitive) production costs can also be supported in a variety of ways. As observed by author and podcast host Ann Friedman in The economics of the podcast boom, podcasts can rely on "a combination of listener donations, ad sales, and, increasingly, premium or bonus content that's available only to paying subscribers."
Software makers love podcasts. Apple's mobile operating system comes with a (non-deletable!) podcast app and several third-party apps, such as Stitcher, Overcast, and Castro, offer podcasts listeners streamlined interfaces and robust functionality. Overall, podcast apps make subscriptions very easy and encourage regular listening through notifications popping up whenever a new episode is released
Cars have become one of the most popular places to listen to podcasts: in-car technology makes on-demand listening as easy as tuning in to traditional radio
Audio content, now enjoyable through a variety of on-the-go solutions (from smartphones in our pockets, to stereos in our cars), matches our busy lives greatly and can basically be with us any time of the day, playing from when we take a shower, to when we cook, go to work, wait for a train, fall asleep (thanks sleep timer!)
Podcasts listeners are a loyal and supportive audience. According to Edison Research's 2014 Share of Ear study on American audiences, they value the personality and intimacy of the medium, listen to an average of six episodes per week, show a low bounce rate, tending to listen to episodes in their entirety.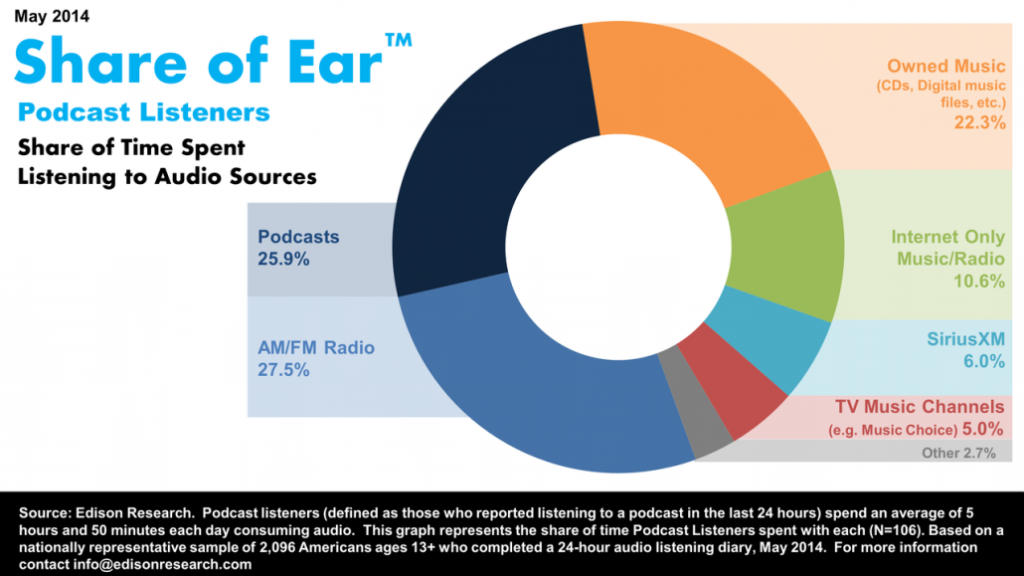 From Edison Research's Share of Ear℠ study.
Democracy, representation and accessibility
Podcasting is a technology with both a low entry barrier, and a very high potential to equip anyone wanting to create their own media channel on their own terms.
This makes it a particularly effective tool to support justice and rights efforts, giving activists, campaigners, journalists, and most importantly individuals belonging to groups usually not visible nor represented in mainstream media, a platform to make their voice resonate, in a very easy to share format. Quoting author Arundhati Roy: "There's really no such thing as the 'voiceless.' There are only the deliberately silenced, or the preferably unheard."
Podcasting offers the opportunity to challenge some of the troublesome dynamics which other media are still struggling with: media democratisation, representation, accessibility.
Podcasting is a key tool of media democratisation: it uses information technologies to both empower individual citizens and promote democratic ideals through the spread of information, and provides the opportunity to create independent media channels alternative to the mainstream outlets.
Podcasts currently share an issue with the other mainstream media platforms: if we have a look at the most popular podcasts (for example taking the global iTunes charts as reference), we can easily notice a problem of representation, regarding gender, ethnicity, ableism, sexual orientation, language, age, socioeconomic background.
But with the greater sustainability acquired by podcast production in recent years, this medium has now the opportunity to make a difference. The more groups who are not usually represented in mainstream media will reclaim their space and visibility through podcasting, the more the audio space will broaden. Furthermore, hearing voices in which people recognise themselves leads to more listeners (who start giving attention to new programmes, finding their experiences finally represented) and also more authors (encouraged by the others' initiative to add their – so far unheard – voice to the airwaves).
Accessibility is a key asset provided by podcasts: their content can be listened to in its original audio format as well as transcribed to be enjoyed by deaf and hard of hearing individuals, by the audience who might not have access to an internet connection able to support the download of the audio file and by anyone who feels more comfortable with translating the content from its original language to another one (check to The Queer Public Podcast's great transcripts)
Challenges: from code-switch to data
The potential is great, but the breakthrough effect that podcast could have will not come without challenges.
Biased perception of voice tones. NPR's Selena Simmons Duffin and biology professor Rindy Anderson identified six top complaints that a sample audience revealed to have when hearing women's voices, such as "too high", "too low", "too similar to a child's voice", "not authoritative". And such biases not only affect listeners – they can also influence speakers. As observed by professor, activist and journalist Chenjerai Kumanyika: "Journalists of various ethnicities, genders and other identity categories intentionally or unintentionally internalize and "code-switch" to be consistent with culturally dominant "white" styles of speech and narration". To (literally) hear more about this, listen to NPR's Gene Demby talking about the whiteness of the "public radio voice" with Another Round's Heben Nigatu and Tracy Clayton.

Talking While Female – reported and mixed by Selena Simmons Duffin, animated by Kelli Anderson for NPR.
Discovering and sharing should be made much easier. As Ann Friedman highlights: "The iTunes podcast app is […] where more than half of all podcast downloads happen, with Stitcher and Soundcloud trailing behind. There are a lot of podcasts out there, but after listeners binge on one, iTunes doesn't do a great job of directing them to what they might want to download next." And in addition to this, audio content is technically way less easier to share online than other media formats, such as video.
Unclear analytics. Podcasts analytics can show the number of downloads – but the podcast apps' settings give the opportunity to download automatically new episodes of any podcasts the device's owner subscribed to, meaning that the number of downloads is not a very reliable information to learn about the popularity of a podcast. Furthermore, there's no way to verify if an episode has been listened to and to what extent. All this doesn't help to analyse in detail a podcast's impact nor excites advertisers who might want to track sales.
What now?
There is so much podcasts can give – and so much you can do too.
Listen to them!
A curated list of podcasts by hosts from all walks of life is coming soon can be found on this very blog. As a start, find here a couple of personal favourites to tune into!
Make one (or more)!
Transom provides great tips on voice recording and Call Your Girlfriend's Gina Delvac, Ann Friedman and Aminatou Sow share their advice for podcasters-to-be in the episode Your Time To Shine.
Support!
You can: join the conversation (many podcasts provide an e-mail address, twitter hashtag or phone number to get in touch and contribute feedback and stories); share your favourite podcasts far and wide; support podcasting initiatives building a more democratic, representative, inclusive, and accessible audio space with donations, content transcriptions, and enthusiastic reviews (helping them to show up in the apps' top charts and widen their audience).