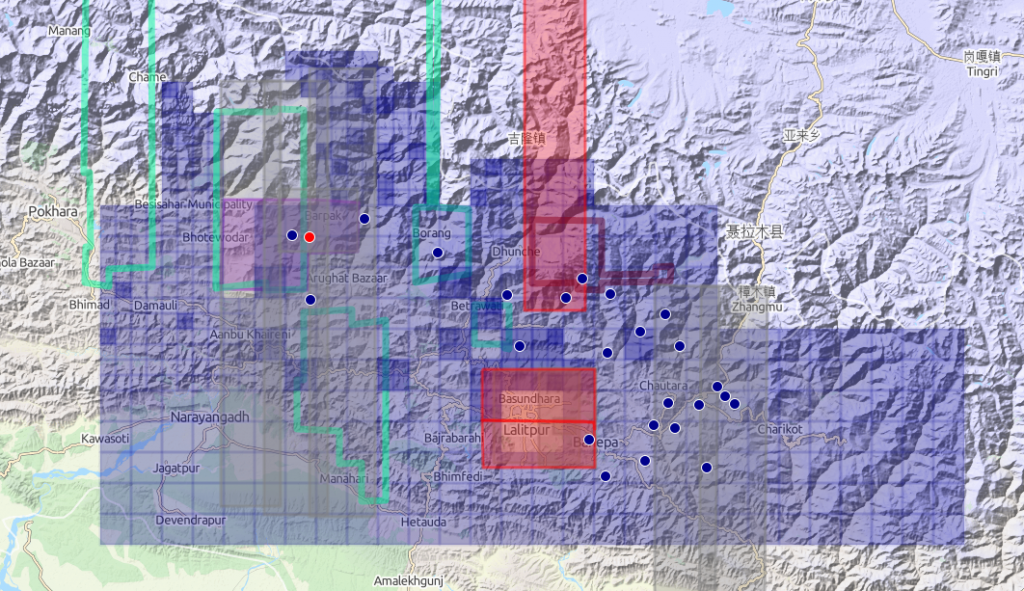 Nepal Earthquake 2015. Overview of tasks and imagery coverage (screenshot taken on April 28, 5pm CEST). Humanitarian OpenStreetMap Team.
The government of Nepal has declared a state of emergency after a 7.8-magnitude earthquake struck the country on April 25, killing more than 3,800 people (figure at the time of writing).
Material and logistic assistance is now required to help thousands of people in need, and that's when humanitarian response comes into play.
Humanitarian response can take different shapes and come from a range of organisations and actors, including governments, the United Nations system, international and local non-governmental organizations (NGOs), the Red Cross/Red Crescent movement, specialists such as search-and-rescue operations – and digital humanitarians.
Digital humanitarians are among the newest actors joining the humanitarian response landscape, emerged thanks to the increased connectivity provided by ever-growing adoption of digital devices by large numbers of citizens globally. Albeit quite new compared to more established forms of humanitarian response, distributed and digital disaster response already proved successful during several emergencies (from Oklahoma to Haiti and Sierra Leone), and able to empower citizens to respond in ways traditional institutions cannot (more information about this can be found in Willow Brugh's talk Distributed and Digital Disaster Response).
What's most striking is that there's no need to be a highly skilled software engineer to join the digital humanitarian community and help out. Anyone with a reliable internet connection and the wish to support relief efforts in real-time can provide digital humanitarian response, monitoring, tagging and geo-locating relevant social media, SMS and satellite-captured content. The goal is to provide timely and accurate information to crisis-affected communities and humanitarians working on the ground in an emergency situation, also ensuring that the information and data released adhere to the 'do no harm' principle.
Within this context, this post collects in one place:
a list (as comprehensive as possible) of digital response efforts which anyone can join, guided by non-profit organisations and online volunteer communities and focusing on the Nepal earthquake crisis;
a selection of documentation and resources providing further information about digital disaster response – what it is, how it works, how it can be coordinated;
aiming to:
share information about a less-widely-known kind of humanitarian support, reaching people who might have never heard about it, but who might realise that – given the often approachable level of literacy and connectivity required by most of the digital humanitarian initiatives – might be able and willing to help;
provide an updated collection of initiatives to people who already have experience with digital humanitarian support and might be looking for projects and groups to join;
and more broadly spread the word about a unique (and often game-changing) form of emergency support which is increasingly becoming crucial to consider as part of the global humanitarian landscape.
If you know of any initiative or resource that would be helpful to add, please leave a comment below and it'll be included. Thank you.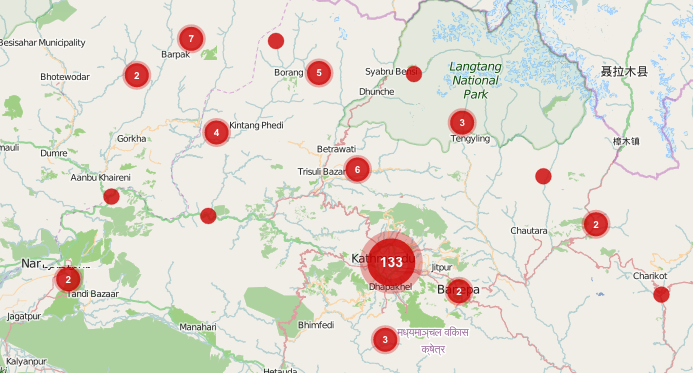 Nepal Earthquake 2015. Map of reports submitted (screenshot taken on April 28, 5pm CEST). Kathmandu Living Labs.
Organisations and groups mobilised for the Nepal earthquake crisis
(sorted by key focus, channeling Ushahidi's helpful categorisation)
Information, Social Media, Reporting
Translators Without Borders

Nepal relief effort: additional translators to support the TWB volunteers team have been recruited via Twitter (see tweets posted on April 25 and 26)
How to help (+ check out the tweets posted by @TranslatorsWB for potential new calls for support)
Updates: on Twitter @TranslatorsWB
Code for Nepal

Nepal relief effort: through its Facebook page, Code for Nepal is trying to get residents on the ground to help counter the fear mongering and rumors online;  information about food, shelter and resources in affected areas are collected and shared through this public document
How to help: if on the ground, or in possess of information from trusted sources currently on the ground, contribute to the calls for support (to research and double-check data) posted on the Facebook page
Updates: on the Code for Nepal Facebook page and on Twitter @CodeforNepal
several tech companies (such as Google, Facebook, Skype, T-Mobile, Digital Globe) are also offering response or assistance in the wake of the emergency, often also providing data and satellite imagery useful to the volunteers working on the aforementioned digital disaster response initatives. More information in this regard can be found on the New York Times' Nepal earthquake live blog and on Patrick Meier's and Zarah Rahman's blogs; a snapshot of the communication threads running from and to Nepal and populated by information gathered through tools like Google Person Finder and Facebook Safety Check has been captured by Saprina Panday for Global Voices.
Mapping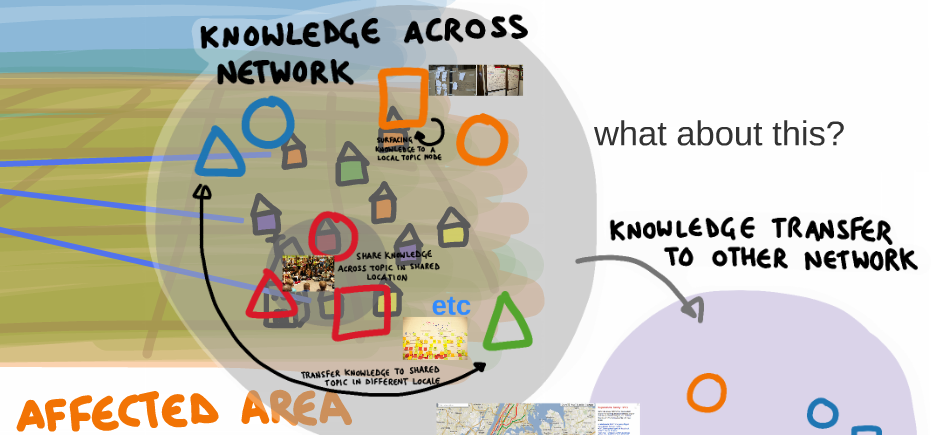 (Screenshot from) Willow Brugh's talk Distributed and Digital Disaster Response. Berkman Center for Internet & Society at Harvard University, March 20, 2015.
Selected resources about digital disaster response – what it is, how it works, how it can be coordinated